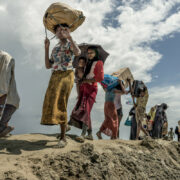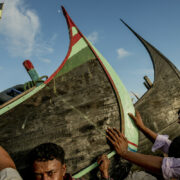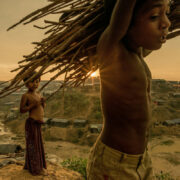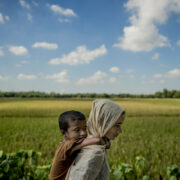 View Gallery
The Rohingya Humanitarian Crisis
RS4059__D242806-scr
Nazer Meah, de 60 años, a la izquierda, camina hacia Bangladesh continental junto con otros refugiados Rohingya. Perdió las piernas cuando el ejército birmano le disparó hace unos años. Él y sus compañeros de viaje, llegaron a Bangladés en barco tras cruzar el río Naf. @ Tomás Munita
By Tomás Munita
While working in the mountains of Peru, Chilean documentary photographer Tomás Munita was called by The New York Times to cover the exodus of the Rohingya ethnic minority to Bangladesh, a humanitarian crisis unleashed when this Muslim population is massacred by the Burmese Buddhist population with the consent of its famous president, Aung San Suu Kyi. In this essay Munita reflects on the dichotomy between the responsibility of producing a material that will affect decisions in the highest spheres of power, and his natural and inevitable search for beauty, even in the most dramatic circumstances.
The photographic search has always been for me a language through which my environment was revealed and made to be understood through vision. In this exercise of searching for images, it was beauty that found signs, colours, textures, gestures and shapes, which they began to express, poetically, and always from a rather unexpected perspective. It was more about learning to read with light, as opposed to what the name says, write with light. But when this language led me to work for journalistic outlets like the New York Times, with whom I worked almost exclusively for more than 10 years, the subjects I photographed became, with a few exceptions, increasingly urgent: topics that required to be told with great sensitivity and commitment.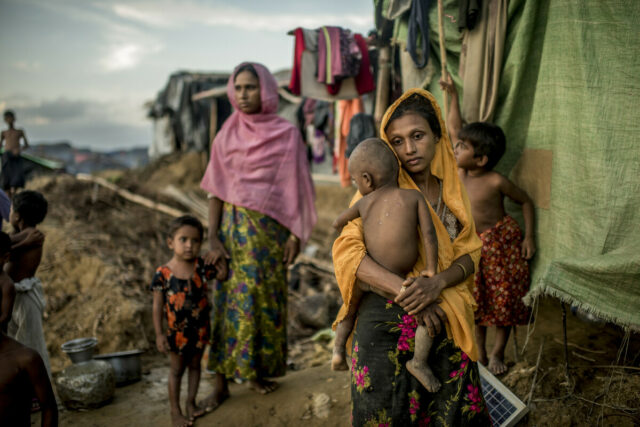 The consequences of a good publication could be remote or abstract, it could sensitise the opinion of many people around a subject, but the truth was that they reached the spheres where decisions are made. With this weight on me I began to move away from the game of photography just for the pleasure of communing with the environment, of reading it under my strange magnifying glass, constantly creating in the search of chance and the language of things. Perhaps it was the intensity of my work that led me to move away from the game, because I was recounting our deepest dramas, putting my life in danger to reach that space where what I must witness happens, entering where it is uncomfortable to be to photograph everyday life of others and be their interlocutor. With an editor waiting in the distance for pages of a newspaper to fill.
Now it is difficult for me to go back and lower the responsibility of saying something that contains a truth every time I have the opportunity to be heard. The images are no longer my own graphic, intellectual or poetic game, because there are people who are going to see them. I feel that I must be fair to those who allowed me to photograph them in the hope that their message gets through. Whether it was people, rivers or forests that opened their doors to me, I must respect my commitment.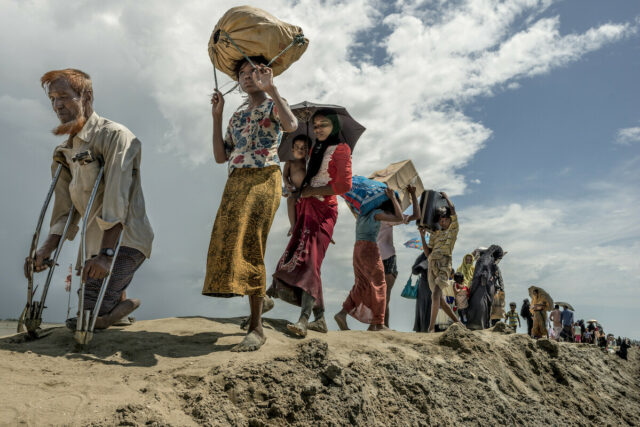 I know that this is not the space to talk about genocide, nor does it make much sense to do so. However, I need to give a brief explanation and in this way try to tell what I am looking for when I photograph. These photos were taken in Bangladesh in 2017, after the Rohingya ethnic minority was massacred, outraged and expelled from their land in Burma at the hands of the army and neighbouring farmers. It is a story that has been years in the making. I had been lucky enough to work in the concentration camps where some towns had already been reduced, some years before. I had also visited the idyllic villages where they lived, it was like travelling to the past. But the tension with their Buddhist neighbours was strong.
There was a monk who dedicated himself for a long time to preach hatred and fear against the Rohingya Muslims. He poured gasoline on the fire for years. Those of us who knew the subject knew that a wave of violence was approaching, only we never thought it would be so extreme, let alone that the winner of the Nobel Peace Prize, Aung San Suu Kyi, would validate and protect the actions of her army, which from one day to the next decided to put an end to the Muslims. They violently expelled an entire ethnic group that had been denied all rights for years, stole their belongings, murdered and raped systematically and with impunity.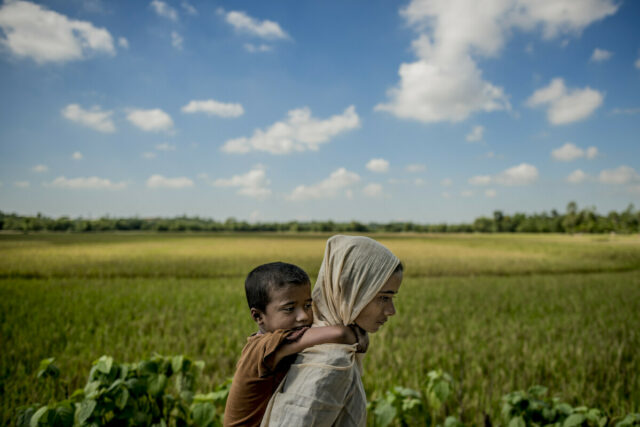 In a few days the mass exodus took place. I was working in the mountains of Peru and it took me several days to reach that river that separated the border of both countries. The images we were able to obtain were only of the exodus, since the genocide on the other side of the river was only reported by the survivors and by satellite images that witnessed the devastation.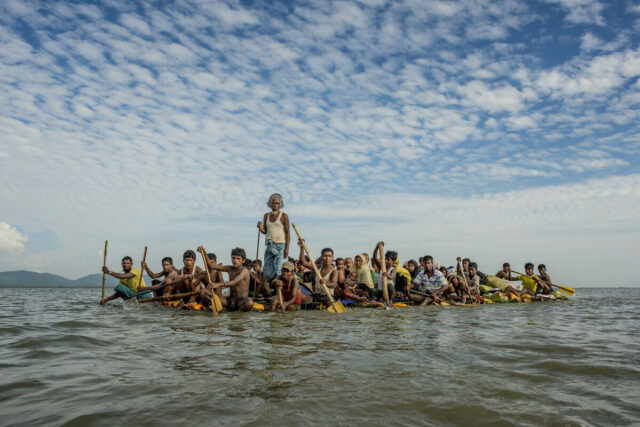 We had to show the horror, pain and despair of these people who lost everything, of the women whose children were killed before being raped and arrived barefoot after days of walking through the jungle, of that girl who survived the machete cuts on her head, from the children who saw their parents die and were now languishing in what was becoming the world's largest refugee camp, where they were beginning to die of diseases caused by overcrowding. And I was there, looking like crazy for beauty in the midst of chaos.
It's strange but true: I was looking, as always, for beauty. I am certain that beauty is capable of penetrating deeply into people, of seeking its own path in the viewer. I looked for it in desperation, in the pain of a mother washing the inert body of her daughter, in the beauty of her gesture of love and emptiness, in the lost gaze of a child, in the malnourished and abused body of an old man or in the fleeting moments of a passing joy or light that humanity returned to them.
---
About the author:
Tomás Munita (Chile, 1975) is an independent documentary photographer whose main interests are social and environmental issues. His photographs have been recognized with some of the most important photojournalism awards worldwide. Some of them are five World Press Photo, Leica Oskar Barnack 2006 with his work on Kabul, Gabriel García Márquez 2015, Visa D'or Daily News, POYi Latam Photographer of the Year 2013, NPPA Photojournalist Of The Year, Henri Nannen, Rodrigo Rojas de Negri and George Polk. He is a contributor to The New York Times, National Geographic, Geo, Red Cross and several other international outlets.
Links: