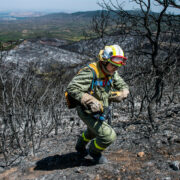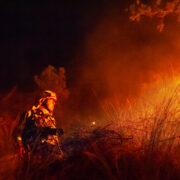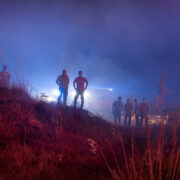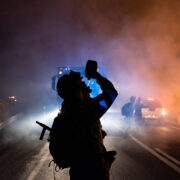 View Gallery
Pedro Armestre, Social and Environmental Photographer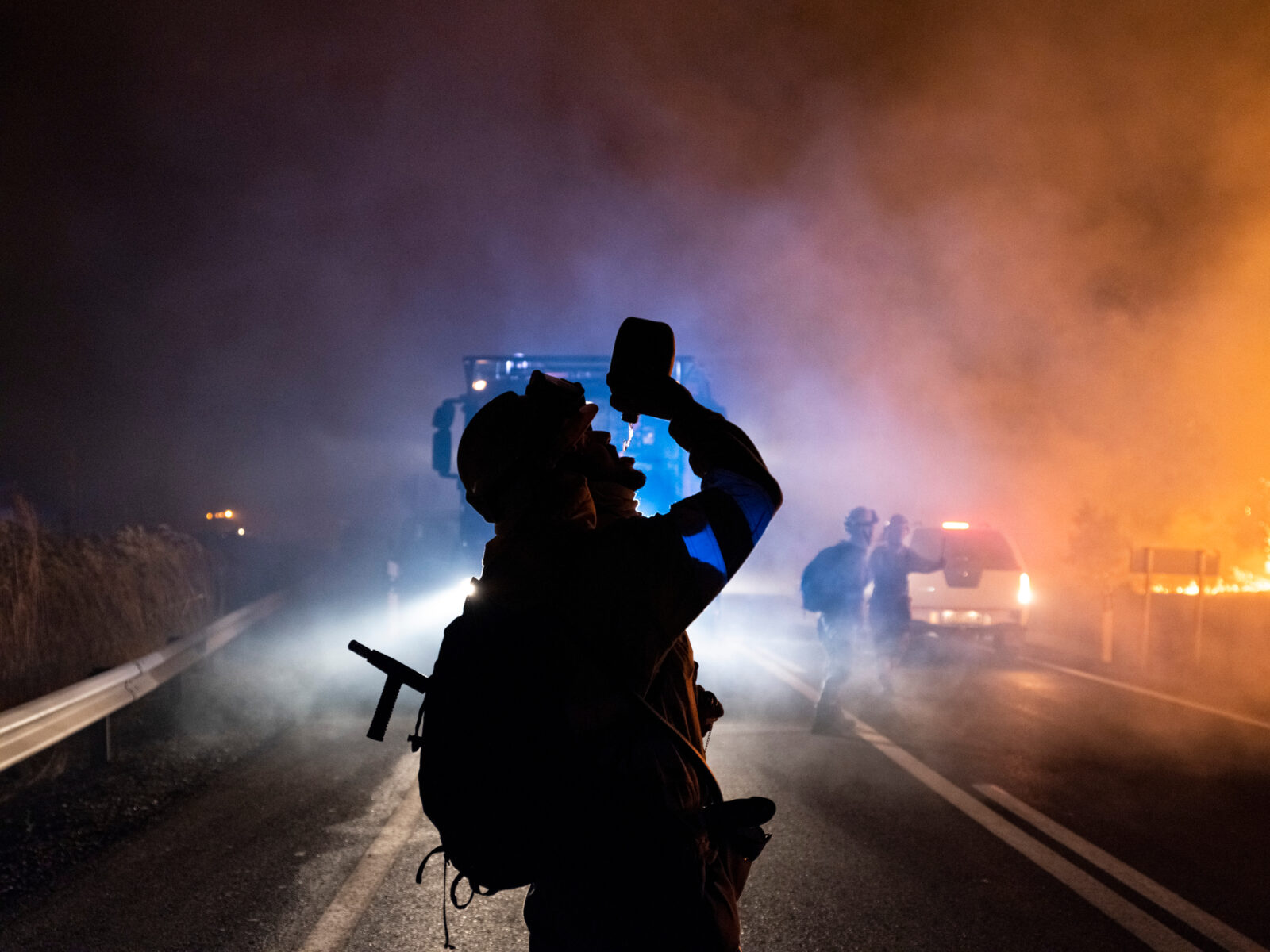 25/07/2021.LIETOR, CUENCA©Pedro Armestre
El esfuerzo físico al que se enfrentan los bomberos forestales es extenuante. Según las distintas regiones el porcentaje varia y podríamos decir que el 80% del tiempo es destinado al entrenamiento físico y desarrollo de practicas de extinción y un 20% del tiempo trabajando en fuego real. En las épocas de baja intensidad también realicen desbroces y trabajos para minimizar el impacto del fuego. Es necesaria una regulación de sus condiciones laborales. Numerosos bomberos forestales son despedidos tras la campaña de incendios forestales restando eficacia a las tareas de prevención. En la imagen un bombero forestal se hidrata durante una de las largas jornadas de extinción en el incendio de Navalacruz, en Avila. Cámara:GFX100S F-número:f/4.0 Velocidad obturación:1/125 ISO:12800 Fecha:2021:08:15 23:49:44
By Nacho Izquierdo
The experienced Spanish photographer tells us about his beginnings as self-taught, his time in the big photo agencies and the reasons that led him to work as a freelancer.
How was your passion for photography born?
When I was young I found a book without covers in the Madrid flea market that called me out. I started reading it and decided to build a pinhole camera with which I learned photography's magic in a very elementary way. My mother's biscuit molds became the development trays and a glass allowed me by contact, by quickly turning on the light, to obtain the positive of the image taken. That camera is still at home and in it I keep the most precious photographs, which are not exactly professional. Some images with friends and family taken initially with my parents' camera and later with many others.
During your long career as a photography professional, what have been the most pleasant and most painful moments?
I will soon celebrate 30 years dedicated professionally to photography. I indicate photography simply because I started in the Europa Press laboratory where I learned by developing the images of others until Chema Clares, who was the head of photography, gave me the opportunity to start taking my own photographs. That beginning was the dream come true that subsequently has not stopped growing. I have lived great moments, travelled to remote places on the planet and the camera was always the master key to access hundreds of unique experiences. I have discovered a world inaccessible to many people and that is to be appreciated. I stay with the people I've met, even the baddest, from whom I've learned where I shouldn't go. It is a profession of constant enrichment and the images possibly do not represent 10% of what this profession provides you. On the other hand, I have had very unpleasant moments, accidents and collisions that have got me hospitalised on several occasions. A time to analyse, reflect and move on. Today I would not change any of them. I am what those scars and joys have given me.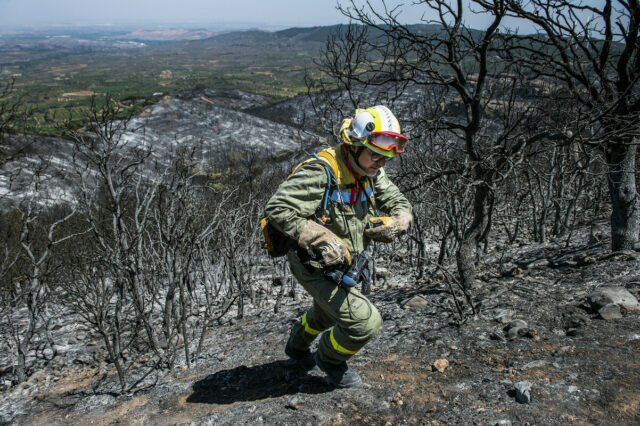 After working for many years as a photographer for an agency, you decided to quit and continue as a freelancer. What motivated you to make this decision?
Except for the first two years contracted at Europa Press I have never had a contract again, and after a while I understood that this labour model was not suitable for me either. I carry out my profession completely independently and I exclusively want and work for entities or media to which I can provide something more than images. It is what I call added value. I like to know all the needs and contribute creative ideas that I try to transform into powerful photographs. At Agence France Presse, for which I covered for 12 years, I felt very comfortable and grateful for the opportunity. One day everything got complicated when they received a letter in which they requested that we renounce all paid rights to our images and a negotiation began that lasted almost three years and ended with the removal of 25,000 photographs from their archive taken by me and the corresponding compensation for the damage caused repeatedly over the years. The economic model of the big agencies is destructive for photographers and I decided to walk away. Some colleagues said that I was closing doors and the doors are better closed if the conditions are leonine for the continuity of the profession. Today, belonging to or distributing as an independent professional through the majority of large agencies gives you a name and publications in media that you would never reach through your own contacts, although they also eliminate basic rights, acquired and protected, here in Spain, thanks to the Intellectual Property Law that they neutralise by pressing with collaboration contracts between the parties where the photographer always loses. I did not want to be a participant and I withdrew, leaving the path clear.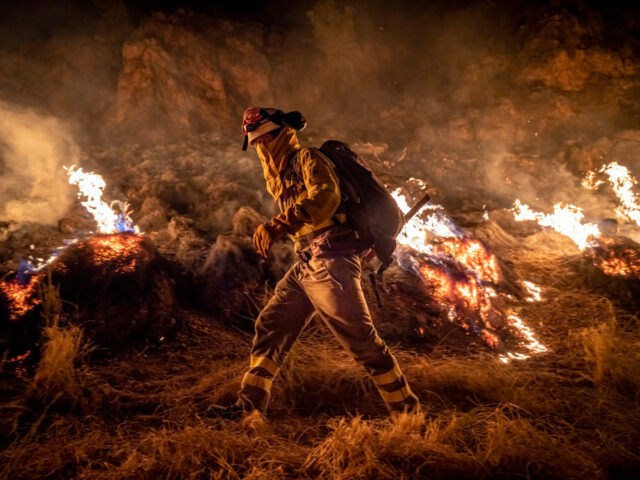 How would you describe the work you do and do you think it fulfils a social task?
I have been, for years, in an informative phase specialising in environmental and social issues, and not only with photography. I incorporated video and narrative discourse into my proposals. The period in which I worked as a photojournalist has evolved. I also did not feel good trying to be honest with my work and that it was transformed or manipulated by the editorial line of the medium that published it. Today, to assign the publication rights of an image I need to know in what context it is going to be published; not everything works for me.
In your latest jobs we can find 24-hour coverage in a field hospital in Madrid during the pandemic; could you tell us what that experience was like?
My coverage of the pandemic has been discreet. I made two big coverages: fifteen days after the beginning of the confinement, I travelled in a protective bubble, a caravan, throughout the Spanish geography. There were 12,000 kilometres documenting the different phases of the confinement throughout the Spanish territory. A great experience and unique opportunity to travel at a time when no one could move. Subsequently, El País Semanal requested my time to document the large field hospital in Pavilion 5 of IFEMA. This coverage became exclusive, since we were the only ones who accessed and remained in the facilities for an entire marathon day with total freedom of movement and access to patients without any impediment. At that time we still did not know everything, we were afraid, the precautions to work were very high and that made the work difficult, although the challenge was enormous and the tremendous dedication of those who worked in medical assistance in those facilities convinced me of the need to protect everyone's health. We have tremendous professionals, and they are very mistreated.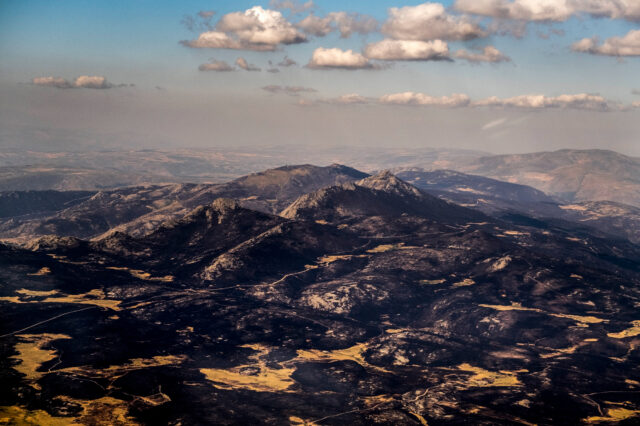 What are your favourite cameras and lenses, and why?
In 2013 I looked for the comfort of small cameras that would allow the quality and comfort of my gaze. I opted for the Fujifilm X series and since then I have stuck with that system, except for some photographs taken with analog cameras that are more oriented towards author photography in which I advance discreetly. My ideal tools are a small X-Pro 2 with a 27mm, the X-T4 with a 28-80mm f4 and a 50-140mm 2.8 that barely comes out of the bag but that I have to take with me for some shots The rest are neutral density filters, a spare X-T2, microphones, a tripod that I use a lot and various minor objects. Occasionally I work with a GFX100S and the GF 50mm f 3.5 R LM WR, GF 32-64mm f 4.5 R LM WR lenses; it is a fast camera with which I get a thoughtful photograph and that allows me to think more before shooting. That feeling optimises my photography. Its sensitivity to capture has allowed me to work in very adverse conditions with brilliant results. It is interesting to observe the ISO-shutter ratios in the captured images to understand that this camera can be efficiently adapted to all situations. Less is more and working light is an added plus for my photographic developments. I must not be very profitable for brands because I am not one of the photographers who look for the latest news. If the hammer works and is good, I work with it until the handle breaks.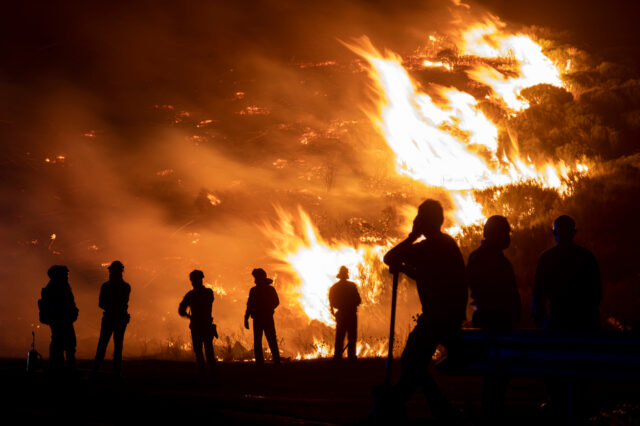 What made you decide to switch to Fujifilm?
Mainly reduce size and weight without loss of quality. Perhaps I was a pioneer in introducing those cameras to my daily work. Today there are already many colleagues who have taken the step.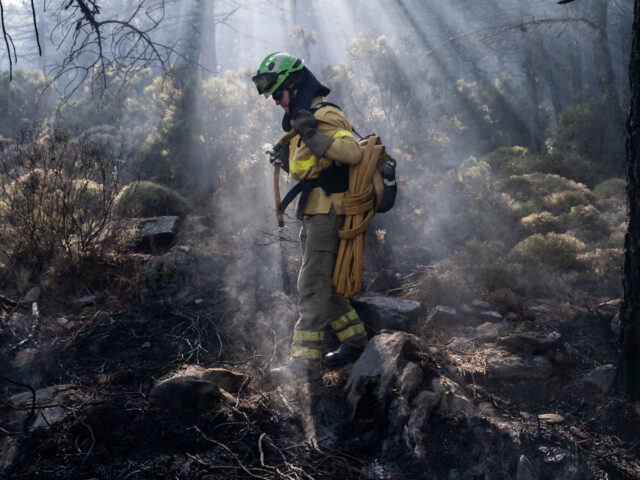 Has your relationship with different organisations such as Greenpeace or Save the Children, doing various jobs, made you see the world in a different way?
Yes, of course. Getting out of our comfort zone gives you very different points of view, and enriches the mind and soul. Today I feel quite strange in the world in which I live, knowing other realities. I readapt my life towards a model that is the more sustainable the better, trying to minimise my impact and footprint and trying to empathise even with the opposite. It is not always easy, although I consider that it is the only formula to live in peace and nurture each other. Today there is too much confrontation, imposition of opinions and these are issues that I do not share although I try to understand. Travelling, which is not tourism, brings you closer to the reality of the world. Only 12% of the world's human population lives like us, like those of us who belong to the so-called developed countries. I say assumptions because development for me is not economic growth and values ​​and empathy this developed world lacks enough.
What projects are you working on now?
We are in the editing phase of a documentary that has been recorded in the summer on the problem of forest fires in Spain that increased after the rural exodus and the arrival of fossil fuels. We hope to present it in the spring. I know that in Chile you also have big problems with forest fires and at any moment I will jump the Atlantic to understand the problem that possibly, although similar, has many new nuances. I work on the creative development of ideas for projects for 2022, which are a continuation of those I am developing, and I have moved my workshop and exhibition warehouse to what they call Empty Spain, because my intention is to work there and fill it up a little . In Spain, more than 80% of the population is concentrated in large cities, which represent an area of ​​15% of the national territory. I am very interested in that path. It is an evolution of my career, oriented to social and environmental dissemination in rural areas to mobilise professionals who start in photography and advanced students through scholarships. What I missed most in all these years, and especially in my beginnings, was that some established professional explained to me how to develop a project, finance it and materialise it. I want to provide the tools and accompany those who have doubts to fulfil their photographic dreams. It is a very extensive project where I seek to involve professionals from other disciplines and exchange knowledge to grow together. Returning to the countryside, even if it is initially seasonal, allows that emptied Spain to become an added value, always very present in my philosophy.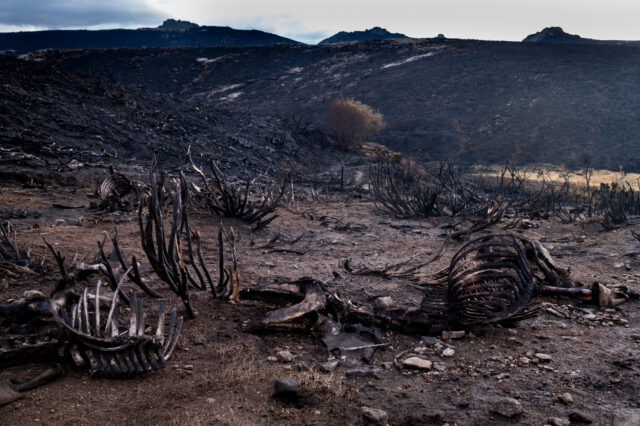 Do you have any reference in current photography?
Yes, my fellow photographers who go out of their way to get ahead with courage and a lot of effort. Their passion is overflowing and the obstacles they encounter are immense. I also have known references, although less important, I don't know their lives.
How do you prepare to face the fire season?
When I became interested in forest fires, and especially in the efforts of those dedicated to fighting them, I also discovered that the audacity of ignorance could cause unpleasant consequences. Studying their techniques and strategies forced me to worry about safety to face coverage, and physical and mental preparation to be able to accompany them is a priority. I have followed their training guidelines to pass the same tests they do. Depending on the operation, these change and for years I have taken the physical training tests that they carry out in order to be able to integrate into the work teams. This has allowed me to be one of the few photojournalists officially accepted and accredited to accompany the helicopter brigades and ground operations. I must be aware of every move I make in the bush. There are injuries that can occur no matter how well trained you are and an evacuation puts your life and work at risk. I am methodical and today I can say that I do not take risks, although I do work in complex situations. I value the specific circumstances at each moment and I have let many images escape for not exceeding the limits of controlled risk. The priority is always personal safety, which facilitates that of the group you accompany and then fire fight as an end. I also have to admit that after a hospitalisation that I had in 2017 and that carries sequels to the present, I have not managed to recover the physical shape that I had at that time. For this reason, knowing the limitations, extreme precautions matter more than ever.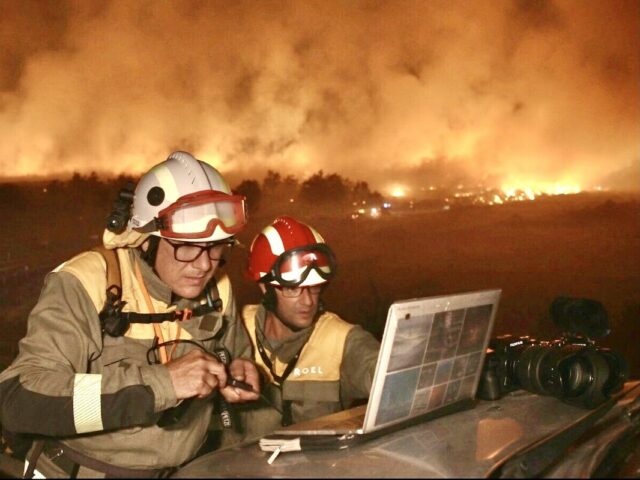 What can you tell us about Fujifilm cameras?
I have been working with them for many years and I forget that they are in my hands. That means that they are part of me, and if I forget I have them it is because they are ideal for registering and perpetuating my gaze.
---
Cameras: Fujifilm GFX100S, Fujifilm X-T4, Fujifilm X-T2, Fujifilm X-Pro 2
Lenses: Fujinon XF27mm F2.8 R WR, Fujinon XF16-80mm F4 R OIS WR, Fujinon XF50-140mm F2.8 R LM OIS WR, GF 50mm f 3.5 R LM WR, GF 32-64mm f 4.5 R LM WR.  
Links:
Instagram: @pedro_armestre