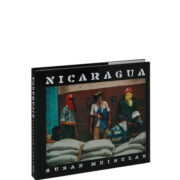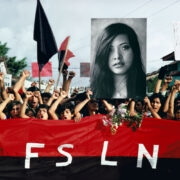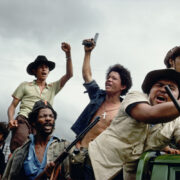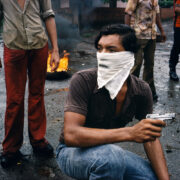 View Gallery
Fotografías de Susan Meiselas
Publicado originalmente en 1981, Nicaragua es un libro clásico contemporáneo, una contribución fundamental a la literatura del fotoperiodismo consciente. Nicaragua presenta una narrativa extraordinaria de un país en turbulencia. Las imágenes, que comienzan con una evocación poderosa y escalofriante del régimen de Somoza al entrar en declive a fines de los años setenta, trazan la evolución de la resistencia popular que dio lugar a la insurrección y que culminó con el triunfo de la revolución sandinista en 1979.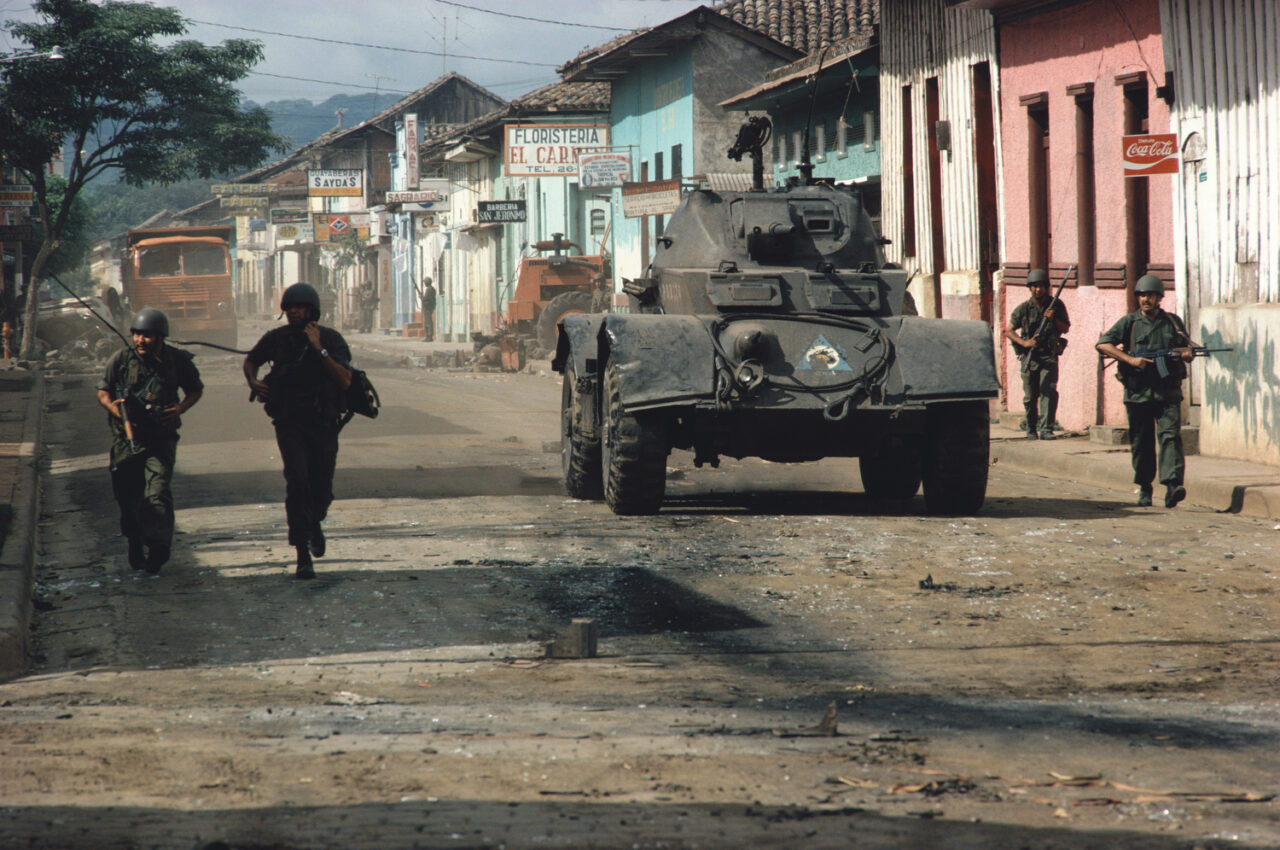 Las extraordinarias fotografías de Susan Meiselas nos sumergen en el interior mismo de un movimiento revolucionario y dan voz a sus participantes. Sin embargo, a diferencia de la mayoría de fotografías de este tipo de material, éstas rehúsan toda retórica que se suele asociar a esta clase de imágenes: la retórica de la violencia, el heroísmo revolucionario y la glorificación de la miseria. Aquí palpamos los sentimientos de personas de carne y hueso, miembros de una comunidad verdadera. Y esta comunidad ha alcanzado un momento importante en su historia. Al trabajar en color, Meiselas se ha impuesto otra tarea difícil. Las fotografías a color sobre este tema dan lugar, inevitablemente, a lo sangriento o al esteticismo de la violencia. En este caso, sin embargo, tenemos un control enorme, una sensación de lo cotidiano y una vitalidad enraizada en una comunidad activa.
—John Berger, 1981
---
Acerca de la autora:
Susan Meiselas (nacida en Baltimore en 1948) es licenciada en arte por el Sarah Lawrence College y máster en arte, en la especialidad de educación visual, por la Harvard University. Su primer libro, el clásico Carnival Strippers, se publicó originalmente en 1976. Desde ese año, Meiselas es miembro de la agencia Magnum Photos. Su trabajo sobre las hostilidades en América Central durante las décadas de 1970 y 1980 se publicó ampliamente en todo el mundo. En 1979, el Overseas Press Club le otorgó la Medalla de Oro Robert Capa «por notable valor y reportaje» en el desempeño de su misión en Nicaragua. Además, codirigió dos películas en Nicaragua, Living at Risk: The Story of a Nicaraguan Family (1985) y Imágenes de una revolución (Pictures from a Revolution, 1991), que se incluyen en esta nueva edición de Nicaragua.
En 1997 completó un proyecto de seis años sobre los cien años de historia fotográfica del Kurdistán llamado Kurdistan: In the Shadow of History, que incluye una exposición, un libro y una página web. Junto con Encounters with the Dani (una obra que recoge, en una rica variedad de niveles, la historia visual de los dani de Papua, Indonesia), Kurdistan examina la relación entre el poder y la representación. Meiselas recibió el Premio en Fotografía de la Hasselblad Foundation (1994) y el Premio Infinity del International Center of Photography (2005). Ha expuesto individualmente en el Whitney Museum of American Art en Nueva York, el Art Institute de Chicago y el Hotel de Ville de París. Fue MacArthur Fellow en 1992.
Desde 2007 es Presidenta de la Fundación Magnum, cuya misión es ampliar la diversidad y la creatividad en la fotografía documental.
Links:
Libro Editorial Blume: blume.net/catalogo/365-nicaragua-9788498013450.html
Instagram Blume: www.instagram.com/editorial_blume