Adapted from the biography on saulleiterfoundation.org

Pioneering a painterly approach to color photography starting in the late 1940s, Saul Leiter produced from New York images for fashion magazines until he retired from the public's attention in the 80s. Yet he would continue to paint and produce street photography for several decades.
The publication of his "little book" Early Color, by Steidl in 2006, inspired an avid rediscovery of Leiter that led to exhibitions of his work throughout the world. The recently published book The Unseen Saul Leiter rescues material never seen before.
We thank the Saul Leiter Foundation for allowing us to publish these images in CAPTION Magazine.
American artist Saul Leiter (1923–2013) was delighted with painting and photography as a teenager in Pittsburgh. After he moved to New York City in 1946, his visionary imagination and tireless devotion to artistic practice prompted him to become one of the iconic photographers of the mid-20th century.
A sense of innate curiosity made him a student of art of all kinds during all his life, and he retained his spirit of exploration and spontaneity throughout his long career, in his fashion images as well as his personal work.
Saul Leiter, the son of a distinguished Talmudic scholar, was born in Pittsburgh in 1923. His interest in painting began at the end of his adolescence. In 1946, when he was 22 years old, suffocated by his family's expectations where it was their intention that he become a rabbi just like his father and most of the other men in his family, Saul imagined something completely different for his life: he abandoned his theological studies and moved to New York City to devote himself to painting.
After living for a few years on Perry Street in Greenwich Village, Leiter settled in a small apartment on East 10th Street, in a neighborhood known for cheap rents that attracted young artists, such as Willem de Kooning and Jackson Pollock, and where the pictorial avant-garde lived. Leiter's apartment had good natural light, ideal for a painter, and he would live there for the rest of his life.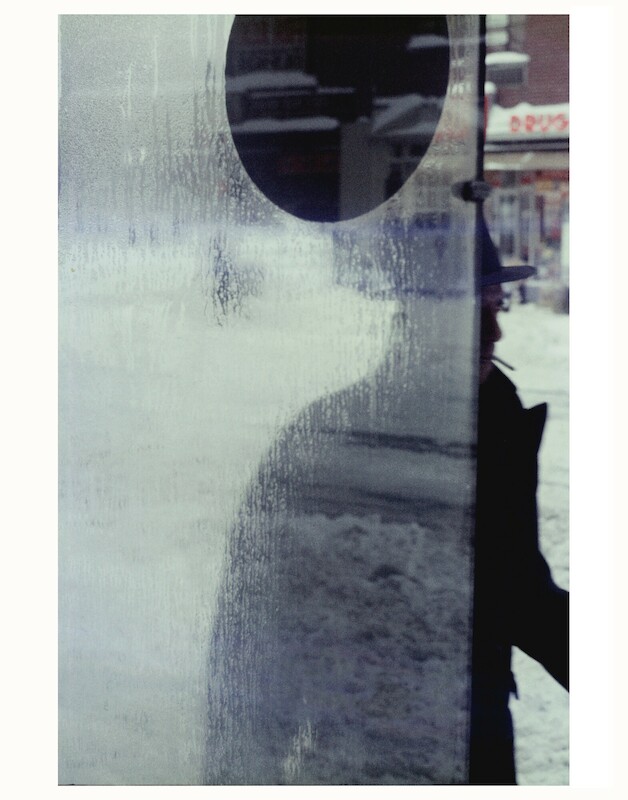 In this neighborhood he met the abstract expressionist painter Richard Pousette-Dart, who was experimenting with photography. Leiter's friendship with Pousette-Dart, and later with W. Eugene Smith, along with photography exhibits that he saw in New York (particularly Henri Cartier-Bresson at the Museum of Modern Art in 1947), inspired him and helped him believe he could earn a living with his camera.
Around 1948, Leiter began to experiment with color, photographing street scenes and his small circle of friends, sometimes using Kodachrome 35mm film past its expiration date.
Leiter's early photographs show an extraordinary affinity for the medium. His abstract forms and compositions are radically innovative and have a pictorial quality that stands out among the work of his contemporaries of the New York School.
Leiter used color prolifically, first and foremost for his personal work, shooting as a daily habit. Kodachrome film was widely available in the 1940s, but it was mainly used for commercial jobs; no one considered it as a platform for any kind of serious art. Leiter ignored this prejudice, using color more like a painter than a photographer; as an impression, a representation of an emotion or an abstraction from reality. Leiter made a living doing shoots for major fashion magazines, although incorporating many aspects of his street photography.
The use of reflections and blurred surfaces in the foreground helps him stand out among other fashion photographers of the time. Also, Leiter preferred to work in the street, whenever possible, incorporating spontaneous and unpredictable elements, and capturing a real moment rather than shooting in a more controlled studio environment.
Edward Steichen included Leiter's black and white photographs in the Always the Young Strangers exhibition at the Museum of Modern Art in 1953. Steichen also included 20 of Leiter's color photographs in his slide talk "Experimental Photography in Color" at MoMA in 1957. The following year, art director Henry Wolf published Leiter's color fashion work in Esquire magazine and later in Harper's Bazaar. Leiter would continue to work as a fashion photographer for the next 20 years and was also published in Show, Elle, British Vogue, Queen and Nova.
Despite their differences, it is inevitable to think of a triad of precursors of modern color where Kodachrome film is an important element of composition: Leiter, the Austrian Ernst Haas also in New York (although with greater emphasis on portraying movement) and the German medical photographer Fred Herzog on his daily tours photographing the Vancouver working class neighborhoods.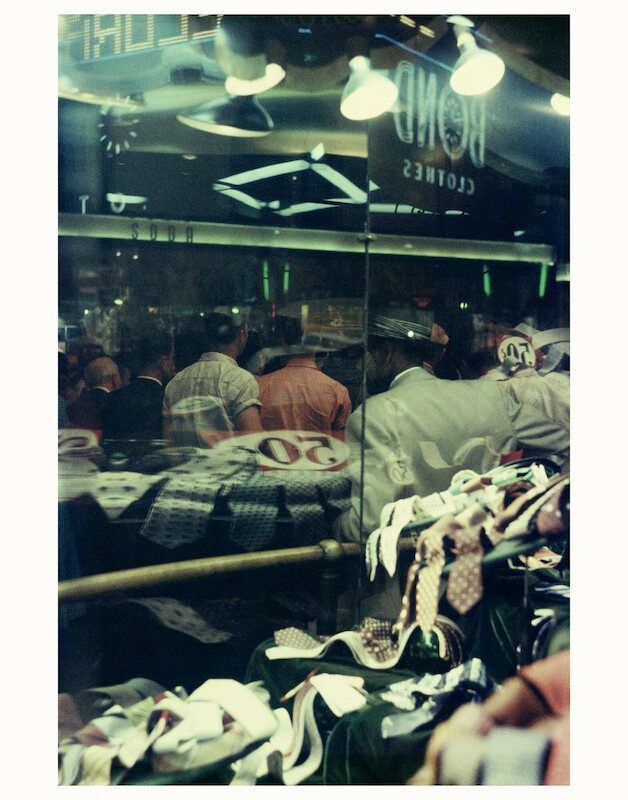 In the early 1980s, burdened by unpaid taxes and frustrated with the creative limitations imposed on photographers in the world of fashion, Leiter left the fashion world and was forced to close his commercial studio on Fifth Avenue. During the following two decades he would live and work virtually unknown, painting with watercolors in his apartment, surrounded by his large archive of photographs.
In 2006, with the help of art historian Martin Harrison and the Howard Greenberg Gallery, Gerhard Steidl published in Germany the groundbreaking monograph Saul Leiter: Early Color. What Leiter called his "little book" became an overnight sensation with worldwide distribution, and established the artist firmly as one of the pioneers in the history of color photography.
In 2006 the Milwaukee Museum of Art held the first exhibition of Leiter's photographs in a museum in the United States. In 2008, Leiter traveled to Paris for his first European exhibition, at the Henri Cartier-Bresson Foundation. The same year he had his first painting exhibition in 30 years, at the Knoedler Gallery in New York. The artist was the subject of the acclaimed 2013 documentary film by Tomas Leach, Saul Leiter: In No Great Hurry, which continues to be shown at film festivals in the United States, Europe and Japan.
Leiter has been featured prominently in solo shows in museums and galleries in the United States and Europe. His work is included in the collections of the Museum of Modern Art, the Houston Museum of Fine Arts, the Art Institute of Chicago, the Baltimore Art Museum, the Victoria and Albert museum, the National Gallery of Australia, the Whitney Museum of American Art, the Milwaukee Art Museum, the Yale University Art Gallery and other prestigious public and private collections.
Saul Leiter died at his East Village apartment on the 26th November 2013, leaving behind an immense archive. In the New York Times obituary on Leiter, Margalit Fox wrote, "Of the tens of thousands of images he shot—many now esteemed as among the finest examples of street photography in the world—most remain unprinted."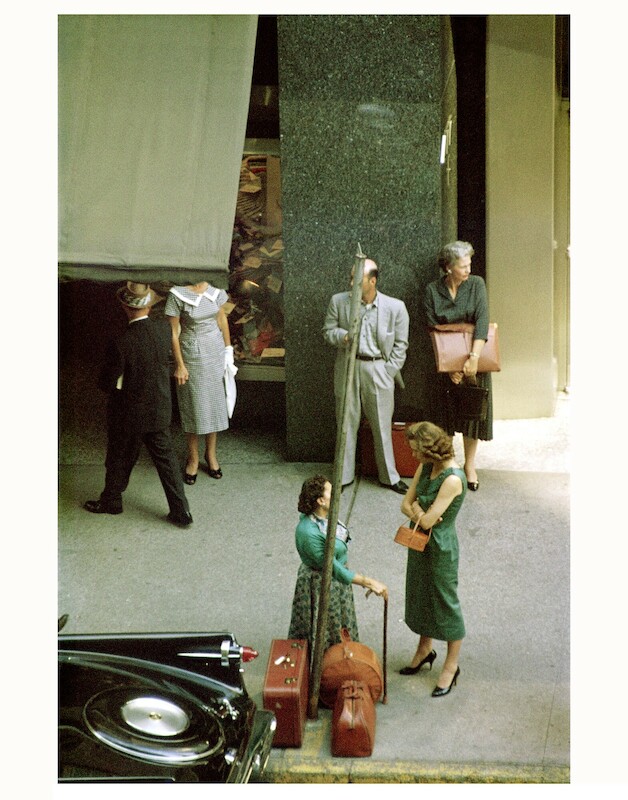 In 2014, Steidl published the two-volume book set Saul Leiter: Early Black and White. An exhibition organized by the Deichtorhallen Museum in Hamburg, Saul Leiter: Retrospective, toured European museums from 2012 to 2019. Meanwhile, the exhibition Photographer Saul Leiter: A Retrospective, opened in 2017 at the Bunkamura Art Museum in Tokyo and traveled to several Japanese cities, with Seigensha's accompanying monograph, All About Saul Leiter, published in four international editions.
In 2018 a rarely seen body of the artist's work came to light: black and white nude photography. These images, collaborations between Leiter and the women of his life, are presented in the books In My Room by Steidl and Women by the Japanese publisher Space Shower, and have been displayed at exhibitions at the Howard Greenberg Gallery in New York and the Foundation Helmut Newton in Berlin.
In 2022 the Japanese clothing company Uniqlo created a line of four Saul Leiter T-shirts, each featuring a color image on one side and a quote from Leiter on the other, with worldwide release. According to the company, "They capture the mystical beauty of everyday life from unique angles."
---
About the Book:
The accompanying images in this article belong to the book The Unseen Saul Leiter, recently published by Thames & Hudson in London, which presents 76 new images from Leiter's color slide archive, with texts by Margit Erb and Michael Parillo of the Saul Leiter Foundation that describe how Leiter put together his archive and how it is now being catalogued and restored.
The book is published in several international editions, in the UK (Thames & Hudson), Germany (Kehrer), France (Textuel), Spain (Editorial RM), South Korea (Will Books) and Japan (Seigensha).
Web Sites: