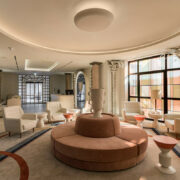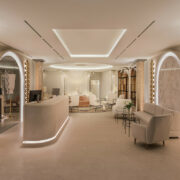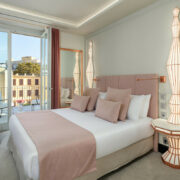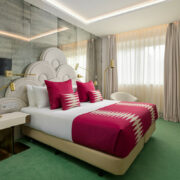 View Gallery
Piazza Navona, Bernini, the 17th century, the Four Rivers fountain and, specifically, The Nile and its palm trees are the inspiring elements of Tomás Alía's latest project for Room Mate Group in Rome.
Located 500 meters from the emblematic Spanish Steps and a ten-minute walk from the Trevi Fountain, you will find Room Mate Filippo and Gran Filippo Premium Accommodation, the new project of Room Mate Hotels.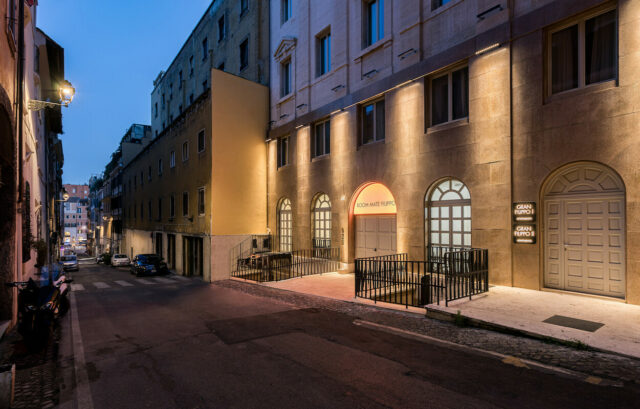 Located in a building from the 1940s, the design was developed by interior designer Tomas Alía, who was inspired by the refined aesthetics of that time. Its imposing facade stands out with flat, elegant and subtle pilasters and with an impressive lighting that makes a lamp effect and calls throughout the street.
For its part, the lobby has a forest of sculptural and three-dimensional palm trees that is completed with a dome supported by granite columns. Palm trees are repeated in the lobby and corridors, recreating a hand-painted forest. Likewise, the two interior patios -which are the lungs of the building- are ordered with trails and lattices with sienna and celadon colors.
The rest of the common spaces are divided into a large meeting room with a library effect and the breakfast room, decorated with modulations in marble, gold metals and geometric shapes.
As for the rooms, they have surprising decorations, all of them inspired by the refined, traveling and cultured aesthetics of the forties. Thus, neutral colors, curved and rounded shapes in the form of scales and materials such as metals, wood and smoked mirrors are used.
The tourist complex includes the Room Mate Filippo hotel with 30 rooms divided into three categories: superior, deluxe and executive and Gran Filippo Premium Accommodation with 11 luxury rooms located on the upper floors of the building.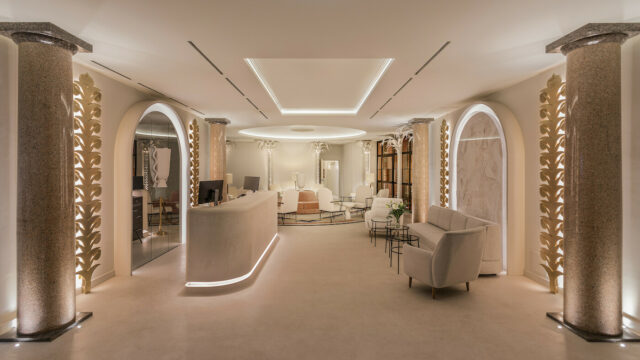 Gran Filippo Premium Accommodation has a suite and a junior suite that can accommodate up to 4 people. All rooms have exclusive services and have access to the common room with kitchen and the possibility of organizing private dinners with additional chef service for exclusive events.
Likewise, most of the rooms have a private balcony and the junior suite stands out, which includes a large terrace of 77 square meters.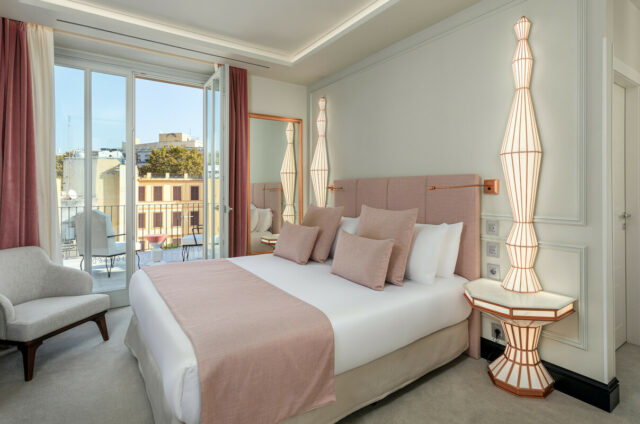 In the words of Kike Sarasola, president and founder of Room Mate Hotels: "I was looking forward to inaugurating this new project in Rome with a unique hotel offer that will allow travelers to decide which option best suits their tastes and needs. Italy is one of our priority markets".
For his part, Tomas Alía: "For me, having designed Room Mate Filippo and Gran Filippo Premium Accommodation is a culminating moment in my professional career, after 30 years of career. The complicated thing about this project was getting to Rome and surprising. That is why we have opted for an exquisite proposal, almost museum-like, with unique pieces and palm trees as a poetic and inspiring element".